Duplex Print - Duplex Print
4.9/5
★
based on 8 reviews
About Duplex Print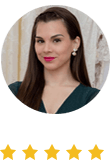 "Mind egyszerűség, mind felszereltség területén elégedettek vagyunk. Csak ajánlani tudjuk a Webnodeot!"
Kathia Dobo, www.kathiadobo.com
Contact Duplex Print
József Kincses (Jocó) on Google

★ ★ ★ ★ ★

Gyorsak, korrektek, segítőkészek, árban is kedvezőek, abszolút 5/5.

Fast, correct, helpful, affordable, absolutely 5/5.

Luca Borbás on Google

★ ★ ★ ★ ★

Először voltam itt, mert gyorsan kellett nyomtatnom és pont útba esett. Ezentúl ide fogok járni, nagyon rendesek és gyorsan meg tudtam fordulni úgy, hogy egy másik lányt is kiszolgáltak épp. Nem utolsó sorban diákkedvezmény is van!

I was here for the first time because I had to print quickly and it just got in the way. From now on I will come here, they are very orderly and I was able to turn around quickly so that another girl was being served. Last but not least, there is a student discount!

csaba igar on Google

★ ★ ★ ★ ★

Best

Frank Chen on Google

★ ★ ★ ★ ★

Great staff and price

Willy Kriswardhana on Google

★ ★ ★ ★ ★

Cheaper than others

Henry Chen on Google

★ ★ ★ ★ ★

Good price and friendly for foreigners !!

Nagy Gergely on Google

★ ★ ★ ★ ★

Kind staff, great prices, quick and high quality work.

Z Zhou on Google

★ ★ ★ ★ ★

Very nice place! Good service attitude~ during university time, I always visit this place to print or copy. Recommend!!
Write some of your reviews for the company Duplex Print
Your reviews will be very helpful to other customers in finding and evaluating information